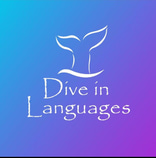 Welcome to Dive in Languages, where we are committed to helping students around the world improve their English language skills. As language learners ourselves, we understand the pressures of traveling and communicating in English-speaking or Spanish-speaking countries while only knowing the basics. Our team of experienced and dedicated educators are passionate about providing high-quality classes in a supportive and engaging online environment.
At Dive in Languages, we believe that learning a new language should be an enjoyable and enriching experience. We understand that every student has unique learning needs and goals, which is why we offer personalized classes tailored to each individual student. We are committed to helping students develop their language skills in a way that is both effective and fun.
Non-native speakers will teach you vocabulary and reading but due to lack of experience, they will often skip educating you on authentic culture and speaking ability. While learning from a native speaker is the best option, it is often expensive, and their classes are rigid and boring, especially if it's not fitted to a student's needs and schedule. Soon enough, young learners might give up, frustrated by the intricacies of the language.
We believe that the best way to learn a language is through interactive and engaging instruction. Our classes are designed to be immersive, allowing students to practice their language skills in real-life situations. Our experienced instructors use a variety of teaching methods and materials to ensure that each student is fully engaged and motivated to learn.
We offer a range of classes to suit students of all levels, from beginner to advanced. Our classes cover all aspects of language learning, including grammar, vocabulary, pronunciation, listening, speaking, and reading comprehension. Our classes are conducted online, making it easy and convenient for students to learn from anywhere in the world.
We want students to desire to learn without fear of failure. Therefore, we founded Dive in Languages to provide students and adults a pressure-free outlet to learn the English language at their own pace back in 2016. Our classes deliver high-quality instruction at an affordable rate. We not only provide online group classes but also assist with test prep and homework help.
At Dive in Languages, we value:
Our Students. They should have a say in their education.


Their Schedules. Each class is personalized to their needs.


Personal Connection. We went through the struggles of learning a complex language ourselves and are happy to mentor you.


Enjoyment. Learning a language should always be fun, and we're here to grow your confidence!


At Dive in Languages, we are committed to providing high-quality classes and support to our students. Our teachers are experienced educators with a passion for teaching English. They have a deep understanding of the language and are skilled at helping students develop their language skills.
We believe that learning a new language is a lifelong journey, and we are dedicated to helping our students achieve their language goals. We are always striving to improve our classes and programs, and we welcome feedback from our students to help us provide the best possible learning experience.
Thank you for choosing Dive in Languages as your language learning partner. We look forward to helping you achieve your language goals and welcoming you into our community of learners.


Contact us today!