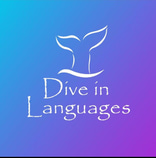 Last Updated: January 1, 2023.
Privacy Policy
www.dive-in-languages.com website is owned by Dive in Languages S.A.S., which is a data controller of your personal data.
We respect your privacy and are committed to protecting the personal information that you share with us when you sign up for our online classes. We have adopted this Privacy Policy, which determines how we are processing the information collected by www.dive-in-languages.com, which also provides the reasons why we must collect certain personal data about you. Therefore, you must read this Privacy Policy before using www.dive-in-languages.com website.
We take care of your personal data and undertake to guarantee its confidentiality and security. This Privacy Policy outlines our practices for collecting, using, and disclosing your personal information.
Personal information we collect:
When you visit the www.dive-in-languages.com, we automatically collect certain information about your device, including information about your web browser, IP address, time zone, and some of the installed cookies on your device. Additionally, as you browse the Site, we collect information about the individual web pages or products you view, what websites or search terms referred you to the Site, and how you interact with the Site. We refer to this automatically-collected information as "Device Information." Moreover, we might collect the personal data you provide to us (including but not limited to Name, Surname, Address, payment information, etc.) during registration when you sign up for our online classes. This information is necessary to process your enrollment and to provide you with access to our online classes.
We may also collect information about your usage of our online classes, such as your progress and participation in our courses. This information is used to improve our online classes and to better understand how our students are using our courses.
Use of Personal Information:
We use your personal information to provide you with access to our online classes and to communicate with you about your enrollment and course progress. We may also use your information to send you promotional offers or updates about our courses, but we will only do so if you have given us your consent to do so.
We may share your personal information with our instructors and service providers, such as payment processors, who assist us in delivering our online classes. We require these third parties to respect your privacy and to use your personal information only for the purposes for which it was provided.
Why do we process your data?
Our top priority is customer data security, and, as such, we may process only minimal user data, only as much as it is absolutely necessary to maintain the website. Information collected automatically is used only to identify potential cases of abuse and establish statistical information regarding website usage. This statistical information is not otherwise aggregated in such a way that it would identify any particular user of the system.
You can visit the website without telling us who you are or revealing any information, by which someone could identify you as a specific, identifiable individual. If, however, you wish to use some of the website's features, or you wish to receive our newsletter or provide other details by filling a form, you may provide personal data to us, such as your email, first name, last name, city of residence, organization, telephone number. You can choose not to provide us with your personal data, but then you may not be able to take advantage of some of the website's features. For example, you won't be able to receive our Newsletter or contact us directly from the website. Users who are uncertain about what information is mandatory are welcome to contact us via info@dive-in-languages.com.
Links to other websites:
Our website may contain links to other websites that are not owned or controlled by us. Please be aware that we are not responsible for such other websites or third parties' privacy practices. We encourage you to be aware when you leave our website and read the privacy statements of each website that may collect personal information.
Information security:
We secure information you provide on computer servers in a controlled, secure environment, protected from unauthorized access, use, or disclosure. We keep reasonable administrative, technical, and physical safeguards to protect against unauthorized access, use, modification, and personal data disclosure in its control and custody. However, no data transmission over the Internet or wireless network can be guaranteed.
Payment:
We understand the importance of providing quality education to our students while maintaining financial responsibility. To facilitate this, we require students to adhere to our payment policy.
By enrolling in our program, you agree to pay all fees and charges associated with your enrollment. These fees may include tuition, registration fees, and other charges as deemed necessary. Payment for these fees is due on or before the due date specified in your billing statement.
You are responsible for ensuring that your payments are made on time and in full. Late or missed payments may result in additional fees and/or suspension from the program. If a payment is declined, we reserve the right to charge a processing fee and take further actions to collect the outstanding balance.
We take the privacy and security of your payment information seriously. Your payment information is kept confidential and is only used for the purpose of processing your payments. We use secure payment processing methods to protect your information from unauthorized access.
By enrolling in our program, you agree to our payment policy and authorize us to charge your payment method for any outstanding fees or charges. If you have any questions or concerns regarding our payment policy, please contact us for assistance at info@dive-in-languages.com.
No Refund:
Fee for services and other agreed charges are nonrefundable. Why? Please read.
Legal disclosure:
We will disclose any information we collect, use or receive if required or permitted by law, such as to comply with a subpoena or similar legal process, and when we believe in good faith that disclosure is necessary to protect our rights, protect your safety or the safety of others, investigate fraud, or respond to a government request. We will not sell, rent, or disclose your personal information to any third parties for their marketing purposes without your explicit consent.
Changes to our Privacy Policy and Refund Policy:
We reserve the right to make changes to our Privacy Policy and Refund Policy at any time. We will post any changes on our website and will update the effective date at the top of this page. Your continued use of our online classes after any changes to our policies will constitute your acceptance of those changes.
Contact information:
If you would like to contact us to understand more about this Policy or wish to contact us concerning any matter relating to individual rights and your Personal Information, you may send an email to info@dive-in-languages.com.